I got mugged! {Mug Swap 2013}
September 3, 2013
Thanks to my friend Kelly, last year I found out about a fun Mug Swap by A Cuppa Kim.  The Mug Swap happens in August and I had just missed last year's cut off, but made sure to join in the fun this year.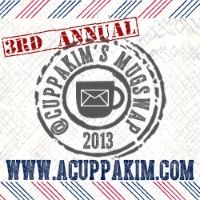 Signing up involves filling out a quick form with some of your likes, dislikes, interests, coffee/tea/hot chocolate preference, and any blog address or social media links.  Then you'll get an email with the name and contact info of the person you'll be sending a mug to.  Thanks to the answers they put on their form, you get to know them a little and can stalk them on the internet.  The friendly kind of stalk, of course.
Meanwhile, a different person has gotten your info and they're stalking you!  It's nice sending a mug to someone different than you receive from because you get to "meet" two new people.
I got to send a mug to Sarah from The Little Hedgehog.  I liked her immediately, obviously!  All Sarahs are pretty great, don't ya think?
I saw something that she Instagrammed which ended up leading me to discover NS Pottery on Etsy.  Sarah said she liked handmade, and mint green, so when I saw that this mug came in a light mint green I thought it was perfect.  And she has two little boys so I thought she'd appreciate that it holds 18oz.

(Pic via NS Pottery, screenshot from my iPhone, she makes/sells those rings too!)
Since I loved that mug so much and wanted to keep it for myself, I was ecstatic when I got my mug from Melanie at Sunshine Praises and it was a similar style, from another great Etsy shop, KP Mugs.  How beautiful are these?!!

(Pic via KP Mugs, screenshot from my iPhone, she makes gorgeous bowls too!)
The colors remind me of the sunrise which is perfect for morning coffee, and it brightens up the office cubicle!  I love it!
Swaps like this are so much fun!  I especially loved the idea of a mug swap because…
Who doesn't love mugs?
You can never have too many of them, although I'm sure Mr. Won't Run would disagree.
The best ones have a story behind them.  Or a blog post.
So mark your calendars now for next August and hop on the Mug Swap bandwagon!!
Have you ever done a swap like this before?  Tell me all about it, I'm always on the lookout for others to do!